Better Water,
No Payments Until 2024

No Payments & No Interest until 2024!
Now is the perfect time to get a water softener for your home.
The Aquasential High-Efficiency or Select Series Water Softeners from Culligan of the Low Country, serving Hilton Head and Savannah, are a great option, and with our special financing offer, you'll be able to enjoy all the benefits of having cleaner water effortlessly.
For a limited time only, choose the right softener for your home and make no payments for up to one year.*
Take control of your hard water today—you won't regret it!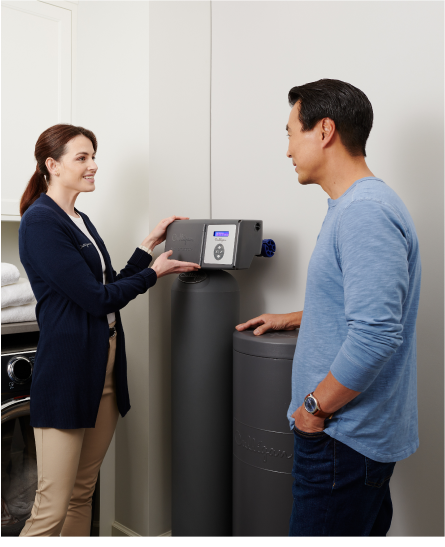 Aquasential Smart High Efficiency Water Softener 
Stress Free: Our salt delivery and maintenance program ensures that you never have to worry about your system operating at its best

Our advanced water softener uses cutting-edge technology to optimize salt, water, and electricity usage, resulting in a significant reduction in operating costs of up to 46%**

Customization: With Dial-a-Softness, you can choose how you want your water to feel.

Smart Tracking: With the Culligan Connect App, you can set and track goals for water usage and conservation.
Aquasential's High Efficiency Water Softener is an ideal choice if you are looking for a water treatment solution that can help reduce hard water spots, improve the taste and smell of your drinking water, and lower your energy usage.
Ask us about our drinking water options to enjoy all the benefits of Culligan Water.
Select Series Water Softener
An economical solution for most households

Improve the efficiency of your appliances while making them last longer!
No matter which you choose, our systems are the best option for improving the quality of your water. Culligan has a reputation for providing high quality water treatment solutions to ensure you are making the best choice possible. Choosing a Culligan system means choosing better water for you and your family.
* Offer valid 1/15/23 – 4/15/23. 12 months no payments or interest, beginning on date of purchase. Contact us for details. Financing for qualified buyers.
** HE Softener when configured with proportional up flow brining with Aqua-Sensor technology; versus a time clock regeneration softener and when used with optional AquaSensor technology. 
***This special offer includes free salt for the first year!