Upgrade Your Water With
No Payments For 12 Months!
On the purchase of any
Culligan Smart High Efficiency Softener
or Culligan Smart RO Drinking Water System

No Payments & No Interest For 12 Months!
There's no better time to upgrade the water quality in your home. 
The Aquasential Smart High-Efficiency or the Aquasential Smart Reverse Osmosis System from Culligan of the Low Country, serving Hilton Head and Savannah, are excellent choices, and with our special financing offer, you'll be able to enjoy all the benefits of having cleaner, healthier and purified water effortlessly.
For a limited time only, choose the right water treatment system for your home and make no payments, same as cash, for 12 months.
Take control of your water today—you won't regret it!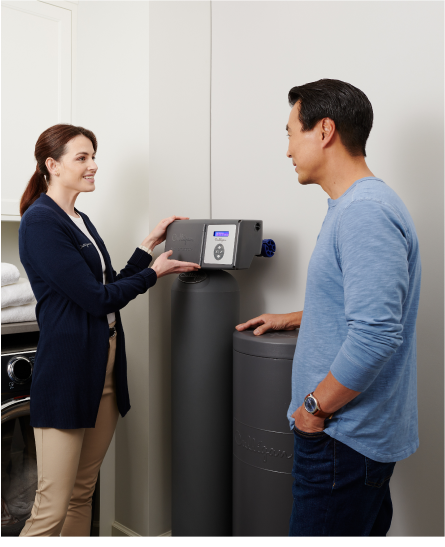 Stress Free: Our salt delivery and maintenance program ensures that you never have to worry about your system operating at its best

Our advanced water softener uses cutting-edge technology to optimize salt, water, and electricity usage, resulting in a significant reduction in operating costs of up to 46%**

Customization: With Dial-a-Softness, you can choose how you want your water to feel.

Smart Tracking: With the Culligan Connect App, you can set and track goals for water usage and conservation.
Aquasential's Smart High Efficiency Water Softener is an ideal choice if you are looking for a water treatment solution that can help reduce hard water spots, improve the taste and smell of your drinking water, and lower your energy usage.
Ask us about our drinking water options to enjoy all the benefits of Culligan Water.
2-in-1 sediment and carbon filter screens out sediment and particles, reducing elements that cause water to taste and smell unpleasant, including the taste and odor of chlorine.
Reduces dissolved substances such as radium, arsenic V, and many others. Various capacity membranes available.
Optional specialty filters available providing a range of benefits including pH balance or the reduction of additional substances such as VOC, pharmaceuticals and mercury.
A second carbon filter ensures your drinking water is cleaner and fresh.
Manifold assembly molded using SteriTouch® resin, the patented single manifold ensures reliability and houses four separate filters.
Designer faucet with multiple finishes are available. Premium metal construction faucet has water quality alerts and filter life indicators in an easy to read display.
Durable, high-quality jacketed steel tank ensures you'll have plentiful supply of refreshing water.
No matter which you choose, our systems are the best option for improving the quality of your water. Culligan has a reputation for providing high quality water treatment solutions to ensure you are making the best choice possible. Choosing a Culligan system means choosing better water for you and your family.
* Offer valid 05/01/23 – 06/30/23. 12 months no payments or interest, beginning on date of purchase. Contact us for details. Financing for qualified buyers.