The Culligan® Portable Exchange Deionizers
The Culligan Portable Exchange Deionizers
The Culligan Portable Exchange Deionizers (PEDI) Systems are part of the Culligan commercial and industrial range, known for their durability, efficiency, and effectiveness. Culligan of the Low Country send their trained experts to understand your requirements and operating conditions, offering the best water solutions for your business. The flexibility and simplicity of the PEDI systems allows for use almost anywhere in your facility that requires high-purity water.
Our reliable PEDI systems are constructed with activated carbon and high-quality anion and cation exchange resins in portable exchange tanks, bringing high-purity water to your operation. The PEDI systems are cost efficient as there is no requirement for on-site labor, maintenance, or specialized knowledge to operate.
The main markets and industries that can benefit from Culligan Portable Exchange Deionizer systems include clinics, educational facilities, laboratories, hospitals, bio-pharmaceutical & cosmetics, electronics, food and beverage production, chemical production, manufacturing, humidification, pulp and paper, ice making, glass & mirrors, oil & gas, car/vehicles washes and more. 
Culligan offers their PEDI systems in multiple configuration options so that you can customize your system according to size, capacity, and other water quality and quantity needs for your operation.
These systems include the Two-Bed PEDI System, the Mixed-Bed PEDI System, and the Multiple-Tank PEDI System.
These Ion Exchange Deionisation Systems connect the Cation and Anion Exchanges to purify your water at varying levels, according to the selected system. The function of the Cation tank is to remove the positively charged ions, such as calcium, sodium, magnesium, potassium, iron, and more. The Anion column works at removing negatively charged ions, such as sulfates, chlorides, carbonates, bicarbonates, nitrate, and silica.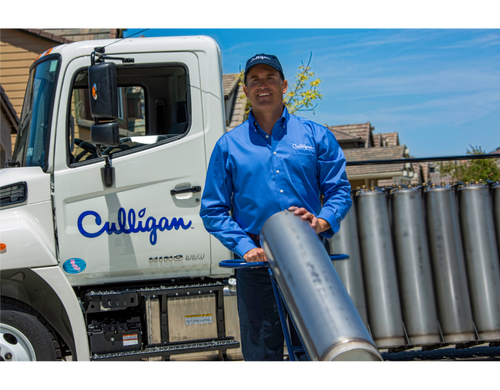 Great Water Is Just A Click Away